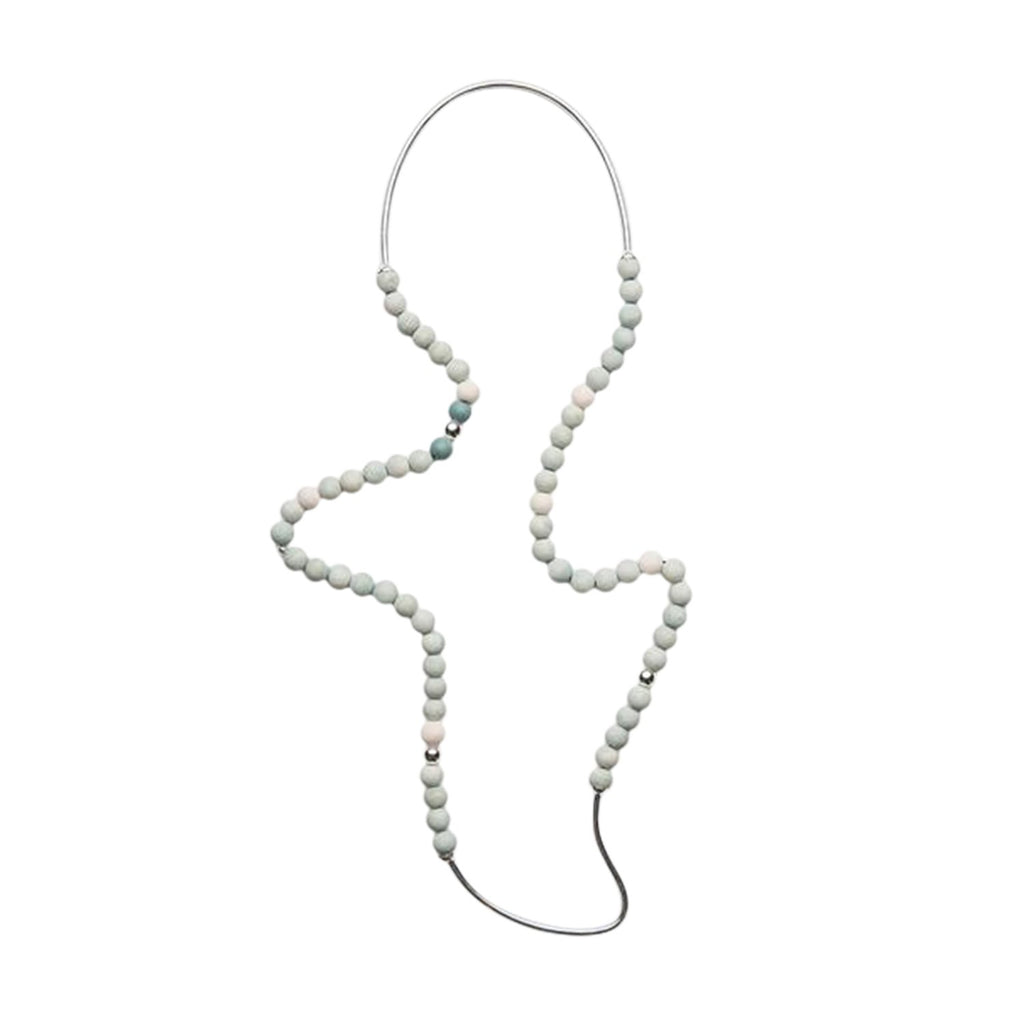 klaylife
Tahndi Long Necklace - Pale Seaspray & Silver
$78.00 $130.00
or make 4 interest-free payments of $19.50 AUD fortnightly with
More info
Details
This striking necklace is a collaboration between Klaylife & Elodie, a jeweller who works mostly by hand to make expressive & organic metal pieces. Drawing on African heritage and craftsmanship, each bead that makes up this gorgeous necklace is hand rolled by the women of Kwazulu-Natal, South Africa. Using raw clay, the beads are sun dried, kiln fired & dip dyed ensuring no two are the same.  Set against the sleek  yet organic metal, this piece is a perfect balance of unusual & enchanting. Tahndi's Necklace can be worn two ways: long or doubled over. The secret magnetic clasp allows you to fold the piece without stretching it over your head.
Values
Handcrafted - Each bead used in the Tahndi Necklace is hand rolled & hand dyed by the women of Kwazulu-Natal, South Africa.
People Loving - By purchasing from Klaylife you are helping over 65 South African women provide for their families & practise their craft.  
The Specs
Materials: Clay beads & metal components are made from gold plated or sterling silver plated brass.
Note: Please remember your beads won't be perfect circles & the colours will vary slightly. Because the beads are porous, some will absorb the dye more than others creating a textured look we adore.
Necklace Care: Open the secret magnetic clasp by gently gripping either side & avoid pulling the string of beads.
When not in use, lay your handmade jewellery flat in its box to maintain shape, minimise stretch & reduce exposure to moisture & dust.
Take great care when handling your beads as they are made from natural materials that are porous.
Exposure to air can cause the metal to tarnish. To restore shine, gently rub the surface with a soft polishing cloth.
Country of Origin: South Africa and Australia.
About klaylife
Klaylife is all about creating breathtaking beauty from the humblest of starting points. Drawing on African heritage & craftsmanship, each beaded lighting product & piece of jewellery created by Klaylife has been handmade from clay beads, rolled, fired & dip-dyed by the women of Kwazulu-Natal, South Africa.
By purchasing Klaylife, you are helping 65 South African women provide for their families, hone their artisanal skills & create beautiful beaded lighting & jewellery with a human story. Each Klaylife piece is more than just a stunning beaded product - it is a loving expression of the communal joy of making.
klaylife™ - The Story Behind The Lights from klaylife™ on Vimeo.
Reviews