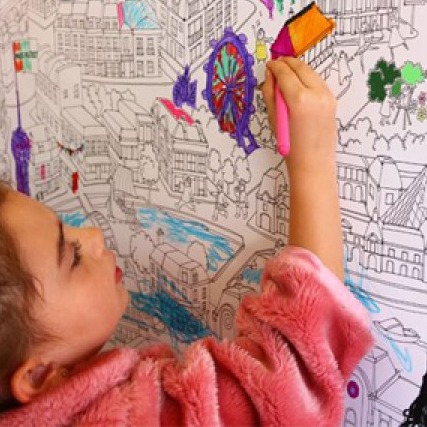 French Affair
Paris Colour-In Mural
$15.30 $32.00
or make 4 interest-free payments of $3.83 AUD fortnightly with
More info
Details
It's not just the children who will love this amazing artwork of Paris. Hand-drawn & full of surprising details, colouring in this giant mural is like wandering though Paris & discovering its many delights.

Put it up on a wall for children young & old to colour-in at whim, or place on the floor or table as an activity for a party or at school. Not just for the youngsters, you can relax as you colour in & explore the streets of Paris.
Printed on thick artist quality paper, this mural will last for years & years - a great keepsake. 
Values
Handcrafted - The Paris Mural is hand drawn by a French artist who clearly knows this city well & holds a real love for 'The City of Light'.
Planet Loving - Printed on high quality recyclable art paper using soy based ink, the Paris mural ensures a light footprint on the earth.
The Good Life - Spark your child's imagination without the use of screen time, delve into the French culture & history together, spend time talking with your child about the sites you visited in your youth as you colour together ... the possibilities are endless. And when your master piece is done, frame it to be hung as a keepsake.
The Specs
Materials: Soy-based ink on thick, high quality art paper. Note: pencils & pens not included.
Size: 120 x 80cm
Features:
Perfect for pens, pencils, crayons, textas, paint - as well as stickers, glitter paint or glue ... just about any craft material.
Can be stuck to the wall with masking tape, sticky tape or Blue Tac.
Once completed can be framed & hung on the wall.
The mural is printed on thick, high quality art paper that has a silk finish to prevent tears. Kids can scribble, play & colour quite happily.
Packaging: The mural will be sent to you in a long sturdy cardboard box. This is also great to store your mural if you don't want to put it up on the wall once it's completed.
Note: The artwork is subject to copyright laws & cannot be copied or reproduced under any circumstances.
Country of Origin: Australia
About French Affair
Prepare to fall in love with the land of romance. Started in 2009, French Affair brings all the delightful surprises of France down-under. Discover a diverse range of products that showcase French culture and craftsmanship, all brought to you by a team with over 30 years of experience in the marketing, entertainment and events industries.
Savon de Marseille soaps have been crafted in the South of France since the middle ages. A product of the regions fierce sun, salty sea air and local craftsman, each bar of soap is quintessentially French. Made from olive oil and devoid of animal fats, Savon de Marseille soap is 100% natural and vegan friendly.
Reviews