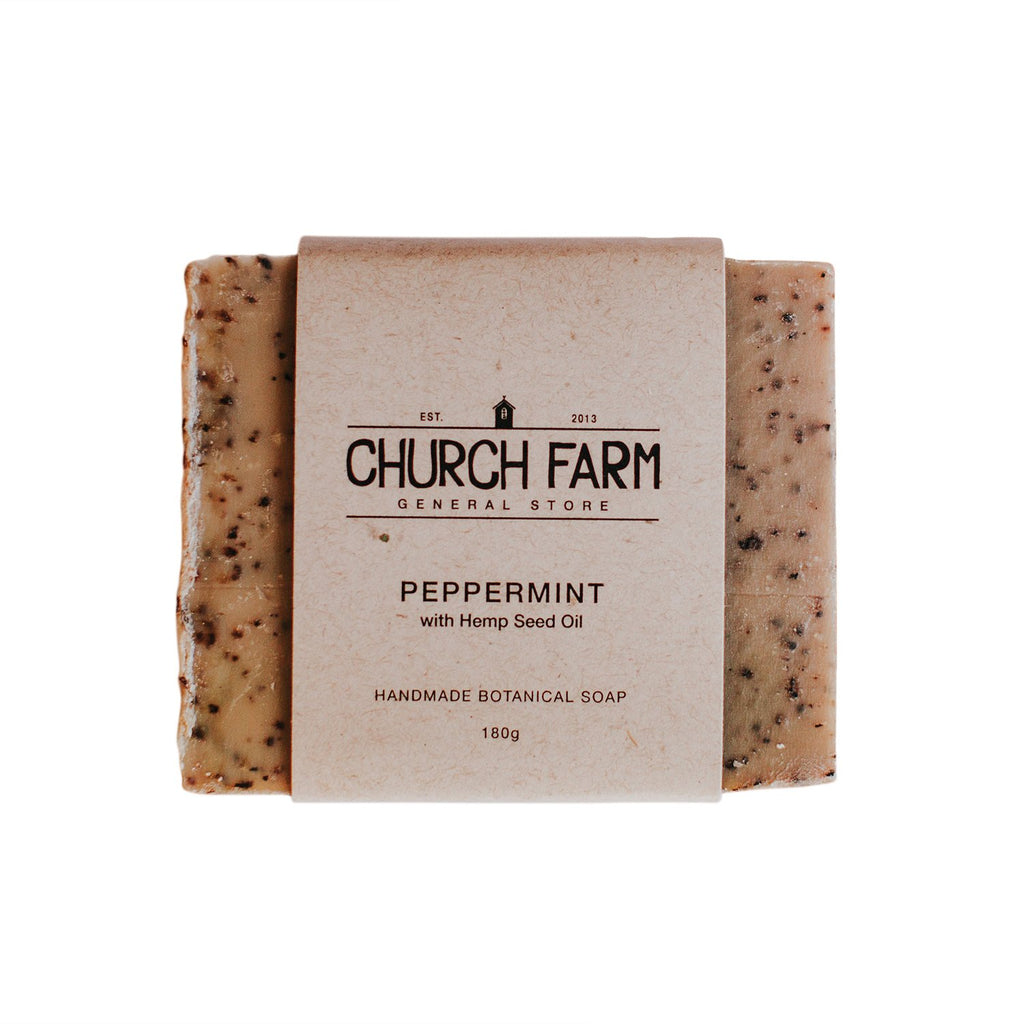 Church Farm
Peppermint with Hemp Seed Oil Soap
$8.00
or make 4 interest-free payments of $2.00 AUD fortnightly with
More info
Details
If the smell of freshly cut grass is your thing, then this is the soap for you. Hemp is a great non-clogging oil that is packed with fatty acids & has unit-inflamatory benefits. Minty Hemp Soap also contains peppermint which is grown at Church Farm & then solar infused into the extra virgin olive oil. Peppermint contains Menthol, which creates a cooling sensation on the skin. The Australian peppermint gumtree has peppermint flavoured leaves which can be used in cooking. But the oil is good for tired muscles & when inhaled can assist in mental fatigue. 
Values
Planet Loving - Produce from the Church Farm garden, veggie farm & farmer friends, is used to make each bar of soap, ensuring chemical-free ingredients.  No nasties are used in the making of the soap, & by re-using & recycling Church Farm do their best to make a happy planet.
People Loving - Church Farm's promise to you is simple: "Always Fair Trade" - enough said!
Animal Loving - Minty Hemp Soap is cruelty free, meaning no furry creatures were harmed during making & all testing was done on friends not animals.
Handcrafted - Each bar of Minty Hemp Soap is handmade & homegrown by Church Farm artisans & farmers. 
The Good Life - Enjoy the therapeutic benefits of this organic botanical soap, eliminating the use of chemicals from your body so you can truly enjoy the good life.
The Specs
Ingredients: Peppermint solar infused extra virgin olive oil, Cold pressed coconut oil, Spring water, Lye, Hemp seed oil, Essential oil of Australian peppermint & Australian peppermint gum, Dried peppermint leaf
Size: 150g approximately. As each bar is hand-cut the shape & appearance may differ from what is shown in the picture, however all bars weigh approximately 150g.
Note: Made with solar infused plant-based oils Enriched with natural clays, real botanicals & essential oils Free from palm oil, synthetic fragrances, dyes & preservatives
Care: For longer lasting soap, please keep your bars dry & in a well drained position in-between uses & away from direct streams of running water.
Country of Origin: Australia
About Church Farm
The Church Farm General Store is the love-child of Amanda Callan & Andrew Morris. Named for the old timber church they call home in Billinudgel, Church Farm uses fresh, locally sourced ingredients to produce organic handmade products ranging from soaps to delicious sauces. Amanda & Andrew believe that, just as you should know what you put into your body, you should also know what you are putting on your skin. Aiming to tread lightly on the earth, all of Church Farms products are made from the best quality natural, home grown & locally sourced ingredients & are tested on willing friends & family, not animals!
Reviews