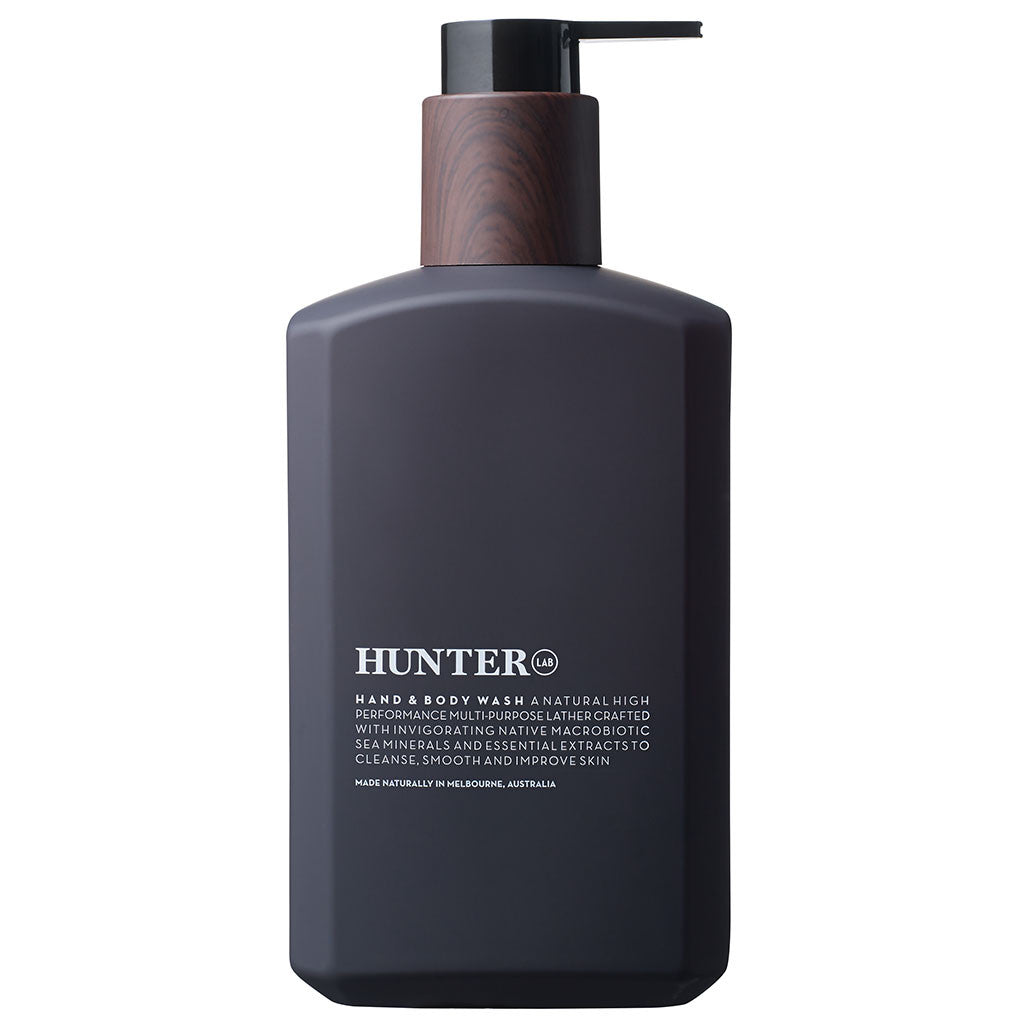 Hunter Lab
Hand & Body Wash
$22.80 $38.00
or make 4 interest-free payments of $5.70 AUD fortnightly with
More info
Details
The Hand & Body Wash is as hardworking & high performance as you are. This multi-purpose body wash features macrobiotic sea minerals, bladderwrack, wakame & violet leaf extract.
Values
Planet Loving - Made from all natural, sustainably grown ingredients, the Hand & Body Wash is as good for the environment as it is for your skin.  
Animal Loving - The Hand & Body Wash is 100% vegan & cruelty free, meaning no furry (or not so furry!) friends were harmed during production.
Cause Supporting - A portion of the profits from each Hand & Body Wash goes towards supporting mental health charity Beyondblue.
The Specs
Key ingredients:
MACROBIOTIC SEA MINERALS - Derived from sun-dried salts from the Whitsundays these minerals are rich in vitamins & nutrients to help revitalise skin, & trace elements which have a high absorption rate into the upper layers of the skin.
BLADDERWRACK EXTRACT - Rich in corrective active ingredients such as free radical-fighting Phlorotannin antioxidants, bioactive Polysaccharides, Amino Acids, vitamins & minerals. It helps reduce skin ageing & inflammation, helps to improve skin elasticity & provides hydration.
WAKAME EXTRACT - An edible sea kelp containing vital minerals sodium, iron & potassium & enriched in B-group vitamins, Calcium, & free radical fighting anti-oxidants. It deeply penetrates skin & helps to soothe irritation, & naturally helps protects skin from harmful UV rays.
Size: 550ml.
Directions: Hunter Lab Hand & Body Wash is perfectly displayed at the bathroom & kitchen sink, & in the shower. 
Dispense generously into damp hands, lather over hands or body, then rinse thoroughly.
Country of Origin: Australia
About Hunter Lab
The good people at Hunter Lab were so frustrated with the current uninspired & chemical filled skincare products for men that they created their own. Drawing on years of experience in marketing, cosmetic product development & packaging design, Hunter Lab delivers quality skincare products tailor-made for men's skin - whether it be nestled under a beard, covered by a plaid shirt or bravely exposed to the world!
Hunter Lab strives to reinvigorate the skincare market by uniting the traditional grooming experience with the high quality, natural, scientifically formulated & environmentally sustainable expectation of today's market.
Reviews