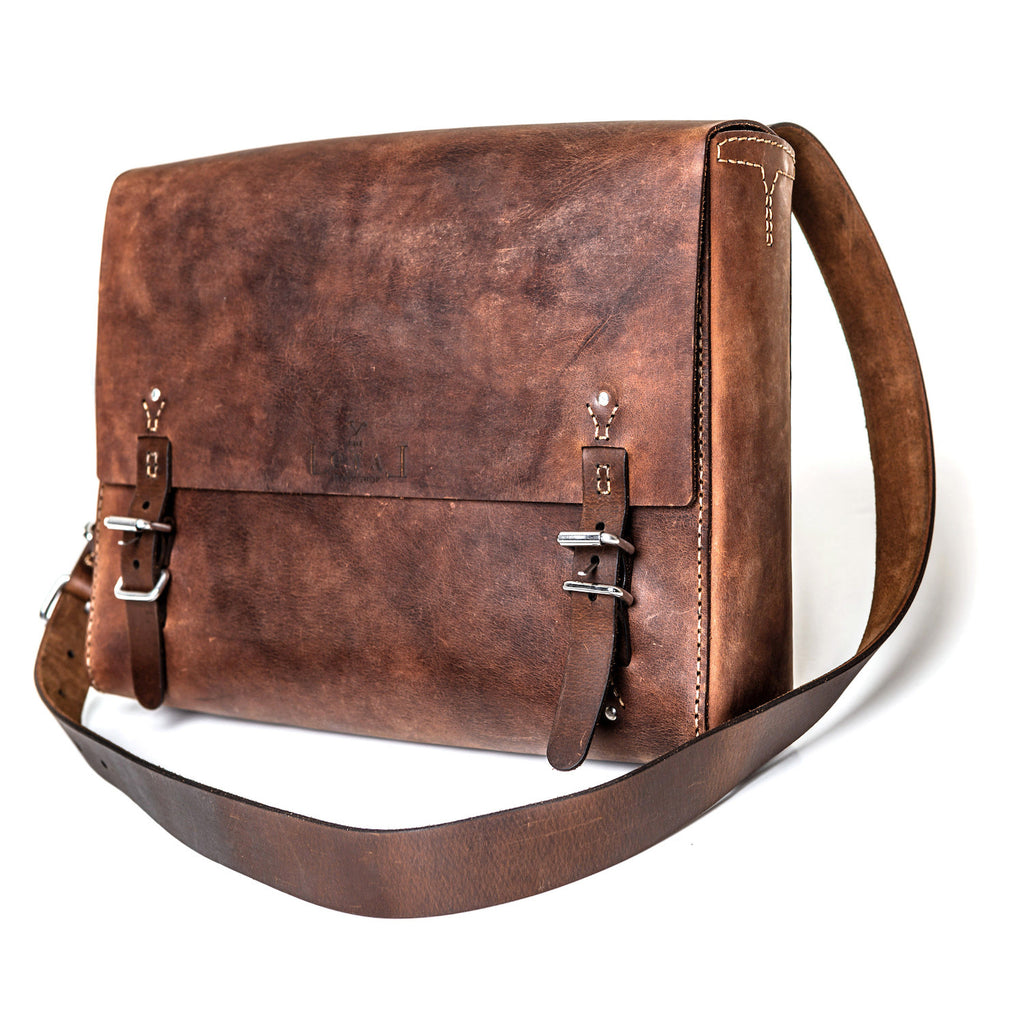 The Loyal Workshop
Goodstead Satchel
$260.00
or make 4 interest-free payments of $65.00 AUD fortnightly with
More info
Details
Adventure awaits with this ethically-made, hand-stitched leather satchel. The Goodstead Satchel is durable enough to accompany you on any adventure.  Who made your satchel? Open up your satchel to find out.  On the inside pocket, her name is etched in English with her own signature in Bangla underneath.
FREE SHIPPING ON THIS LOYAL WORKSHOP ITEM
Values
People Loving - All of The Loyal Workshop's 18 female artisans have been liberated from the sex trade & trained in the art of leather crafting.  
Planet Loving - The Loyal Workshop sources its full-grain veg-tanned eco leather from an eco-friendly fair trade tanner based in the local community, reducing the strain on global resources.
Cause Supporting - All of profits from the Goodstead Satchel go back into helping The Loyal Workshop provide health care & education for their artisans & their families.
Handcrafted - The Goodstead Satchel has been skilfully handcrafted by one of The Loyal Workshops 18 female artisans.
N.B: Only shipping to Australia, New Zealand, USA, Canada & UK. If outside of those countries, please contact us directly for a quote.
The Specs
Features:
Interior pocket with flap.
Stitched & riveted straps.
Old-school dual buckle closure system.
Etched with the name & signature of the artisan.
Materials: Premium eco tanned leather, stainless steel hardware & waxed polyester thread.
Premium Eco Tanned Leather
Bag Chassis - 2.2mm full veg-tanned cow leather produced using a unique eco tanning technique; resilient & sturdy yet slim.
Straps - 2.6mm & 3mm buffalo leather; heavy, durable & stretch resistant.
The leather we have selected has been chosen for its strength & durability but also for its natural full grain look. The veg-tanning process allows the full character of the leather to be exposed, honestly displaying the patina accumulated over a lifetime already lived. In its second lifetime as a Loyal wallet, it will darken slightly & develop more character. This heavy stiff leather has the substance to protect your cargo & maintains its shape.
Stainless Steel Hardware
Naked, polished stainless steel roller buckles & rivets; sturdy & tarnish resistant.
Waxed Polyester Thread
Hand stitched 0.8mm gauge woven polyester; super resilient, stretch proof & UV resistant.
Note: Vegetable tanning adds to the beauty & authenticity of our products. We love to show off the natural character of our leather. as well as being eco-friendly, each & every satchel is unique & distinctive in its markings. We hope you will like it as much as we do.
Size: 33cm x 24.5cm x 7cm (13ʺ x 9 ½ ʺ x 3 ʺ inch). Fits 13ʺ laptops & tablets.
Adjustable length shoulder strap 1090 – 1330mm (43 – 52 ½ in.)
Country of Origin: India
About The Loyal Workshop
The Loyal Workshop was founded on the principle that business can be a tool to help those trapped in slavery. All profits are reinvested back into the The Loyal Workshop community through initiatives such as providing rescued women with access to counselling, medical care, budgeting support, addiction support & liberating women from the sex trade.
The Loyal Workshop's 18 female artisans have all been liberated from the sex trade & now spend their days creating exquisite leather goods, infusing their bravery & zest for life in every stitch. Each handcrafted leather item made by The Loyal Workshop is more than just a bag, belt, bracelet or wallet. It is part of a woman's journey of freedom.
Reviews