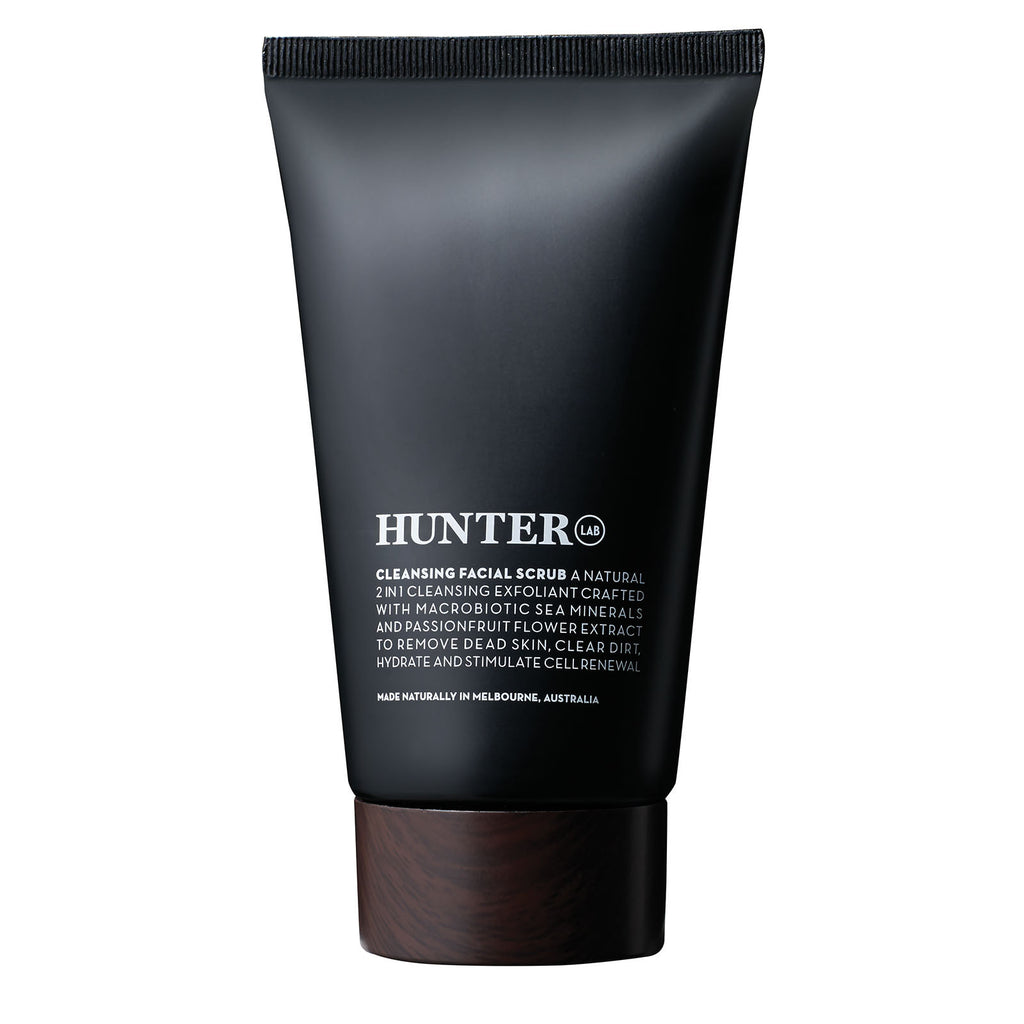 Hunter Lab
Cleansing Facial Scrub
$23.40 $39.00
or make 4 interest-free payments of $5.85 AUD fortnightly with
More info
Details
Renew your skin with this cleansing exfoliant wash. The Cleansing Facial Scrub features native macrobiotic sea minerals, passion flower, violet leaf & bladderwrack extracts, & surgane to cleanse dead surface skin.
Values
Planet Loving - Made from all natural, sustainably grown ingredients, the Cleansing Facial Scrub is as good for the environment as it is for your skin.  
Animal Loving - The Cleansing Facial Scrub is 100% vegan & cruelty free, meaning no furry (or not so furry!) friends were harmed during production.
Cause Supporting - A portion of the profits from each Cleansing Facial Scrub goes towards supporting mental health charity Beyondblue.
The Specs
Key ingredients:
BLADDERWRACK EXTRACT - Rich in corrective active ingredients such as free radical-fighting Phlorotannin antioxidants, bioactive Polysaccharides, Amino Acids, vitamins & minerals. It helps reduce skin ageing, inflammation, helps to improve skin elasticity & provides intense hydration.
VIOLET LEAF EXTRACT - Strong anti-oxidative properties that help fight free radicals, & highly effective in treating skin conditions such as Acne, Psoriasis, skin ruptures & similar skin ailments.
PASSION FLOWER EXTRACT - Rich in vitamins the body craves; A, B, & C, & highly effective in softening, moisturising & renewing the skin. Has strong anti-inflammatory effects making it very effective in offsetting & preventing redness & irritation.
Size: 150ml.
Directions: Best used once daily in the shower either in the morning to awaken skin, or in the evening to wash away the dirt & grime. Can also be used at the bathroom skin. Apply into a damp palm, close eyes & massage onto face & neck in circular motions. Rinse thoroughly.
Country of Origin: Australia
About Hunter Lab
The good people at Hunter Lab were so frustrated with the current uninspired & chemical filled skincare products for men that they created their own. Drawing on years of experience in marketing, cosmetic product development & packaging design, Hunter Lab delivers quality skincare products tailor-made for men's skin - whether it be nestled under a beard, covered by a plaid shirt or bravely exposed to the world!
Hunter Lab strives to reinvigorate the skincare market by uniting the traditional grooming experience with the high quality, natural, scientifically formulated & environmentally sustainable expectation of today's market.
Reviews