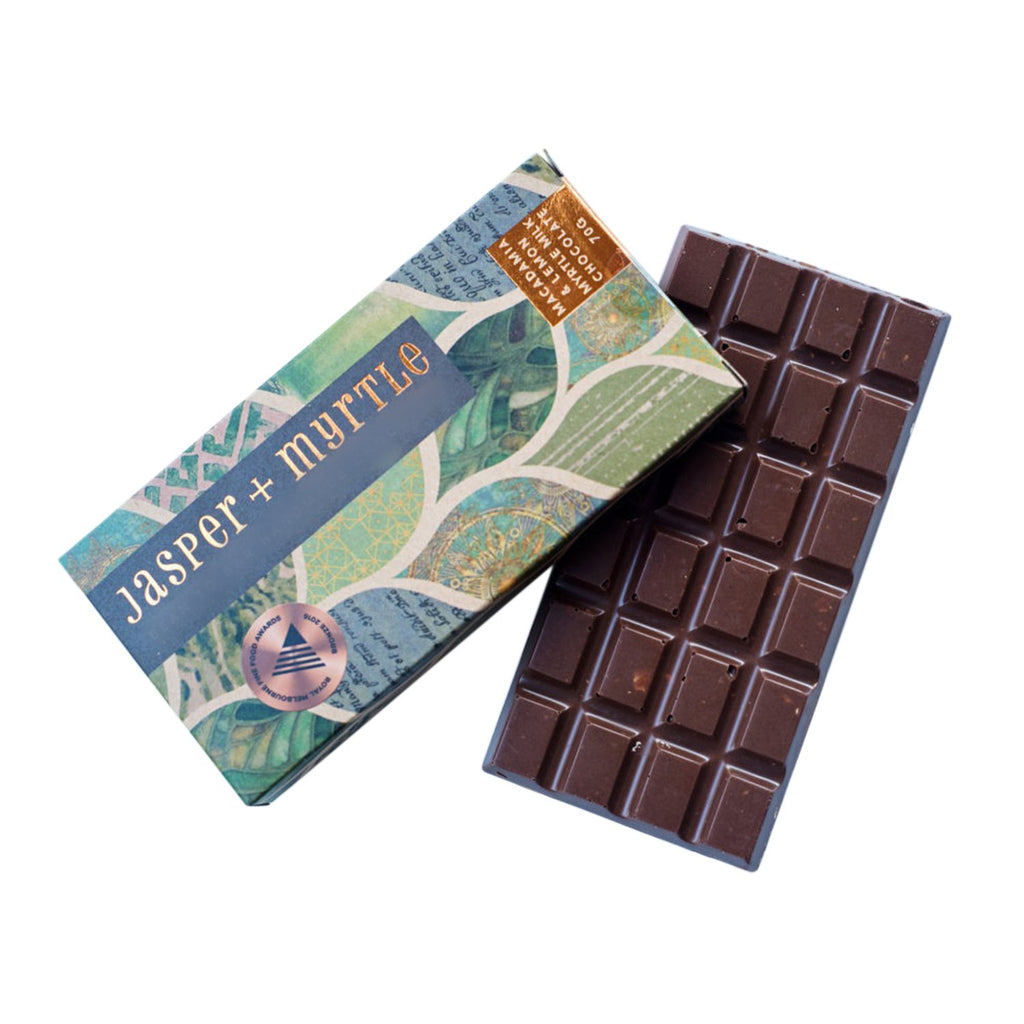 Jasper + Myrtle
Macadamia & Lemon Myrtle Milk Chocolate
$9.50
or make 4 interest-free payments of $2.38 AUD fortnightly with
More info
Details
Boasting a subtle flavour, silky texture & fragrant scent, it's no wonder this chocolate bar has collected multiple awards both nationally & internationally. With Queensland macadamias & native lemon myrtle, it's an indulgent combination of classic Australian flavours - the ultimate Aussie treat ... actually it's just the ultimate treat!
Values
People Loving - With traceability & ethical sourcing at it's heart, Jasper + Myrtle fully support & practice fair trade principals in their dealings with cocoa farmers.
Planet Loving - Keeping the world stocked with chocolate is very important to Jasper + Myrtle, but so is taking care of the planet. That's why they use recyclable packaging, organically farmed cocoa beans, & all other ingredients are either natural or organic. 
Handcrafted - With their "bean to bar" ethos, Li Peng & Peter from Jasper + Myrtle oversee the whole chocolate making process from sourcing the beans, sorting, roasting, cracking, winnowing, grinding, conching, tempering, molding them, to finally packaging up your bar - & it's all done with so much love.
The Good Life -  There are many aspects to slow living, & being able to lie back & relax with this delicious chocolate is as close to nirvana as you can get; especially knowing there's less sugar than commercially available brands & not an artificial flavour, colour or preservative to be found in each delightful mouthful; & guaranteed gluten free - promise.
The Specs
Ingredients: Cocoa Beans, Cocoa Butter, Milk Powder, Lemon Myrtle Leaves, Macadamia, Sugar, Soy Lecithin & Organic Bourbon Vanilla.
Weight: 70g.
Storage: Heat sensitive. Store in a cool dry place.
Country of Manufacture: Australia.
About Jasper + Myrtle
Synonymous with innovative flavours & fine chocolate, Jasper + Myrtle is fast becoming well known for its exquisite chocolate. While still very young (founded in 2015), as chocolate makers Li Peng & Peter have been kicking goals – they believe they're the most internationally awarded bean to bar chocolate maker in Australia in 2017. Quintessentially Australian, this Canberra based company gained inspiration for its name from the semi-precious Western Australian stone Jasper & Myrtle, a flower commonly found in Northern New South Wales.
Handling the entire manufacturing process from bean to bar, this family owned business oversees the whole chocolate production chain, from sourcing the beans right through to making the actual bars - without a drop of couverture chocolate. Ethical sourcing & a loving small batch ethos are at the heart of each bar; & you can taste the love in every mouthful.
Reviews